PhD Student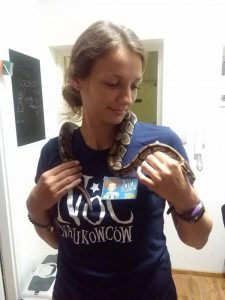 alicjamatysiak@gmail.com
phone: +48 61 848 7651, room no 24
ORCID ID: 0000-0003-2752-6427
Research Gate
Scientific interests
Parasitology, Tick-borne diseases, Morphometry of bones, Ecology, Biodiversity
Teaching
Applied zoology – Environmental Engineering and Protection
Zoology and ecology – Animal Husbadry
CV
2015 – … – Ph.D. study at the Faculty of Veterinary Medicine and Animal Science, Institute of
Zoology, Poznan University of Life Sciences
2013 – 2014 – Master 2 Breeding of South Country, Environment, Development, Université
Montpellier 2, ERASMUS program
2011 – 2015 – Zootechnic Engineering, Poznan University of Life Sciences
2011 – 2013 – Master degree in Biology, Poznan University of Life Sciences
2008 – 2011 – Licence degree in Biology, Poznan University of Life Sciences
Experience and employment
03.2014 – 08.2014 Internship, Mediterranean and Tropical Livestock Systems, CIRAD Antsirabe,
Madagascar
07.2016 – 09.2016 Internship, Control of Emerging and Exotic Animal Diseases, CIRAD Montpellier,
France
01.2017 – 03.2017 Internship, Institute of Parasitology, Slovak Academy of Science, Košice. Slovakia
03.07.2017 – 13. 07.2017 International Summer School of Field Parasitology, Chilia Veche, Danube
Delta, Romania
09.07.2018 – 08.09.2018 Parasitology and Parasitic Diseases Department, University of Agricultural
Sciences and Veterinary Medicine Cluj-Napoca
Publications
Matysiak A, Wasielewski O, Włodarek J, Ondrejkova A, Tryjanowski P (2018) First report of ticks in
the subcutaneous tissue of raccoon dog Nyctereutes procyonoides. Veterinarni Medicina 63: 571-574.
Matysiak A, Tryjanowski P (2017) Drobiarstwo, a dzikie ptaki – korzyści czy zagrożenia. Polskie
Drobiarstwo, 3/2017.
Matysiak A, Malecha AW, Jakubowski H, Sadowska ET, Koteja P, Tryjanowski P (2017) Sexual
dimorphism, asymmetry, and the effect of reproduction on pelvis bone in the bank vole, Myodes
glareolus. Mammal Research, 62(3), 297-306.
Matysiak, A., Dudko, P., Dudek, K., Dudek, M., Junkuszew, A., & Tryjanowski, P. (2016). The occurrence of pathogens in Rhipicephalus microplus ticks from cattle in Madagascar. Veterinarni Medicina, 61(9), 516-523.